Dear Readers,
This post is a collection of ideas that I have been thinking about for this new 2016. First off, I have been dealing with my shock and grief over Dan's passing 3 months ago today. I am doing okay with friends and family support. But the most important activity for anybody to do to feel better and address life challenges is to help others. Helping others is what makes people feel good. It is almost a guarantee if done with genuine sincerity. My blog is about helping anybody who will listen to manage your investments without a costly financial adviser, broker or insurance agent, who are more interested in selling you an expensive product than constructing a diversified portfolio.
I going to have several categories that will become more familiar as this is a template of blog posts to come.
Over Stock and Bond Market Overview.
The stock market has experienced its worst start ever!  20 days into the new year here is my portfolio as of yesterday after the close of trading: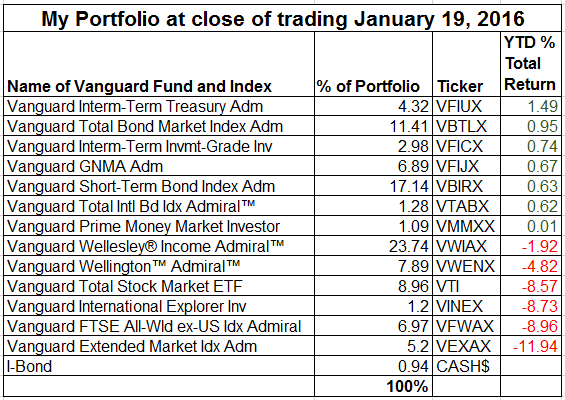 For comparison purposes, below is my portfolio at December 31, 2015. At that time my portfolio was down for 2015, a minuscule -005%: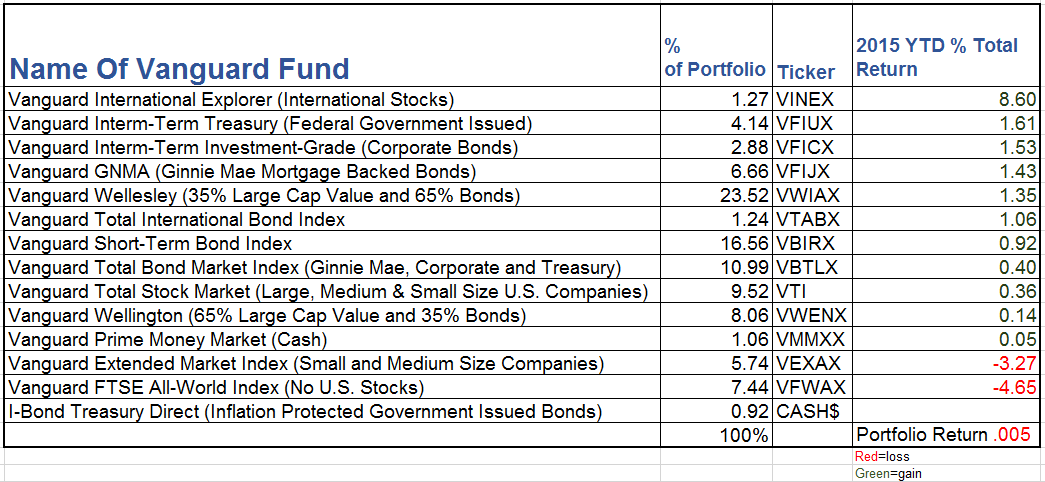 Currently, my portfolio is down about 3.0%.  It is still not a big deal. Diversified portfolios for older retirees, like me, are constructed not to take big losses during market crashes. My bond holdings are positive so far in 2016, so my portfolio has only lost 3.0% so far and the major reason. Thats how balanced portfolios work. Nothing to brag about at parties, and that is a good thing!  Younger investors can take advantage of declines as they are still contributing and can purchase shares at a cheaper price.
Reasons for the 2015 decline? I don't care. Yeah, it's an intellectual discussion that might be interesting, but markets go up and down and the experts really cannot tell you based on their hyperactive discussions what the market will do in the future. I have constructed my portfolio to handle booms and busts, and to stick to my plan. The financial news media reports that oil prices and a slowdown of China are the major reasons why the market is down. There will always be reasons why markets change and act with volatility. Get used to it. Uncertainty is the only investing variable that will be around for years into the future.
The only strategy I care about is the possibility of rebalancing. Right now, equities have not gone down enough for me to rebalance out of bonds and into equities. My stock/bond split at the end of 2015 was 37% stock and 63% bonds. When the ratio of stocks to bonds changes below 30%, for example, then I will sell some bonds and purchase stocks. But my portfolio equity decline has not triggered rebalancing yet.
Articles on the 2016 stock market decline:
What's Happening in the Financial Adviser's World?
Garrett Planning Network and NAPFA (These professional organizations' membership are fee-only financial advisers who offer investment advice. These advisers do not sell commission-based products).
Garrett Planning Network News: http://www.garrettplanningnetwork.com/articles
National Association of Personal Financial Advisers. What is a Fee-Only Adviser?: http://www.napfa.org/community/EducationalVideos.asp
Frugal Living Tip:
I have said all along that people must control their spending if we are going to attain a safe, secure and comfortable retirement.  Mr. Money Mustach has always a few great ideas. Check him out: http://www.mrmoneymustache.com/ I am very tired of over $100 cell phone service and going to check out his recommendation and perhaps you might be interested too: http://www.mrmoneymustache.com/2015/09/20/google-fi-review/
Fun Gadget: Amazon Echo
I have just purchased it and will write a review in the near future: http://www.amazon.com/Amazon-SK705DI-Echo/dp/B00X4WHP5E
Book Recommendation:
Finally, my favorite fiduciary fee-only financial adviser/consultant and my friend Scott Dauenhauer published his book "The Wild West: Provide Fiduciary Advice to Public School Employees.:" It can be found here: http://teachersadvocate.blogspot.com/ This book is for financial advisers, but I am going to pick up a copy, read it and write a review.
That's it for today. Hope you found this information valuable.
Regards,
Steve